◆ Adhering to the Win-Win-Win Partnerships and becoming the permanent information center for customers
◆ Based on customer needs, we will continue to provide complete services before, during and after auditing.
◆ Actively provide customer improvement advice to promote continuous improvement of customer management systems.
◆ 100% to meet customer needs and provide the most reasonable, professional, most value-added services that meet customer needs.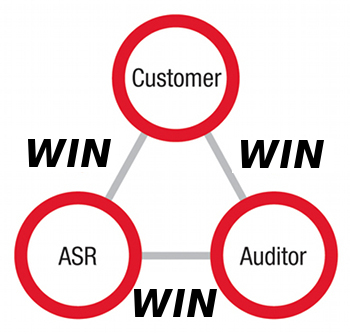 Win the triangle partnership (Win-Win-Win Partnerships)
The first stage
◆ ASR and the client begin to establish a cooperative relationship。
◆ Establish a channel of mutual trust and perfect communication。
◆ Committed to provide complete verification services to customers before , during and after auditing。
The second stage
◆In response to the needs of our customers, we will select the most suitable audit team members and schedule the best audit timetable。
◆ For the selected audit team, we will give it the highest expectations and become the best partner for our customers to improve their quality management system。
The third phase
◆The audit team find the objective fact that the quality system is operating effectively。
◆ Share improvement suggestions with customers to create opportunities for continuous improvement in quality systems。
◆ We will also give our customers the highest expectations and become the benchmark of the industry。